Rich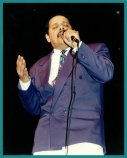 Richie Camacho was born and raised in the Bed Sty section in Brooklyn, N.Y. If you had any interest in music, it was customary that you participated in a singing group whether it be on the street corner especially at night around the lamppost or on the steps of the Marcy Projects.
I was interested in singing ever since I can remember. I remember hearing my mother singing all the time while cooking in the kitchen and my dad while he was in the shower. Also my early influences back in the 50's was the Heartbeats, the Harptones, The Five Keys and the Swallows.
In the 60's I was inspired by the Jive Five, the Temptations, the Manhattans, Little Anthony & the Imperials and Smokey & the Miracles. It was always a dream of mine to start up a group and seriously venture into a singing career.
In the early 90's I did just that along with my partner Tommie Shider. Now, a decade (and some) later, I've watched the Sheps evolve into an A-one polished act and I am so proud!
Click Onto Names To Read About:

Want to hire us? Easy enough....